How do I change the ShipStation requested shipping service
You can map the service per customer
You can instruct ShipStation to send a requested shipping service.
How do the fields map?
Ensure your QuickBooks ship via matched the requested shipping service field:
Here is the ship via field in QuickBooks:
Here is the requested shipping service in ShipStation: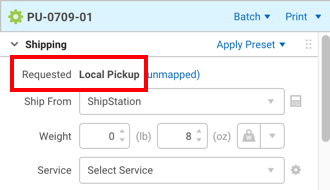 What is they don't map?
In this example, you must map to local pick up and your ship via says FedEx. You can add a rule:
Login to Connex.
Click rules > add.
Click start from scratch.
As the action, choose map shipping method.
In the comparison, enter FedEx as the map from, equals as the comparison and shipping method as the field to compare.
In the map to field, enter local pickup.
Click save.